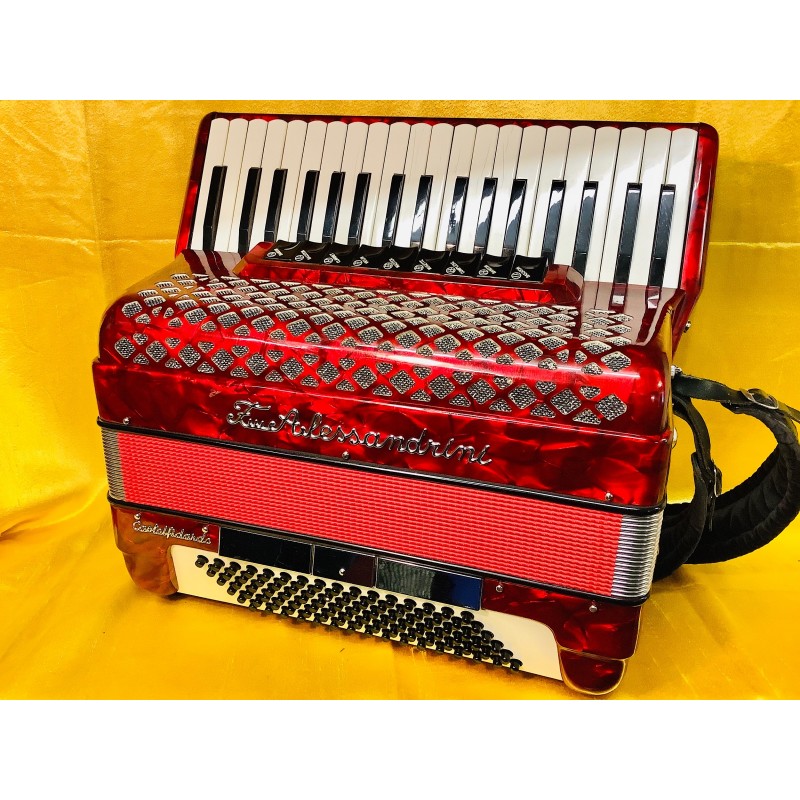 In Stock
 
Fratelli Alessandrini 37/96 bass 4 Voice Scottish Musette Piano Accordion Used
Tax included
Next working day dispatch
Fratelli Alessandrini 37/96 bass 4 Voice Scottish Musette Used
Nice condition used accordion from 1980s in red with tasteful grille pattern and chrome bass couplers.  Crazing on some of the white piano keys that doesn't affect the performance of the instrument see photo.
This is a high build quality hand made Italian accordion with dural reeds that produce a superb powerful sound.  This model is a 37 key 96 bass accordion which delivers excellent value at the quality end of the market.
It is the 4 voice musette tuned model with LMMM reed configuration.
Playing well with good bellows and compression.  Tuned, serviced and ready for the next lucky owner.
Complete with padded straps and case.

Security policy (edit with Customer reassurance module)

Delivery policy (edit with Customer reassurance module)

Return policy (edit with Customer reassurance module)
Fratelli Alessandrini 37/96 bass 4 Voice Scottish Musette Used
Treble Keys: 37
Bass Keys: 96
Reed quality: Dural
Treble Reeds: 4
Bass Reeds: 5
Treble Tuning: LMMM
Cassotto: no
colour: Red
Key finish: White
Couplers: 9
Bass couplers: 3
Keyboard length (including cheeks): 42 cm
Bellows width (front to back): 19 cm
Width (bass to treble total width): 41 cm
Weight:10 kg
F-Aless-37/96/4v-Red-used