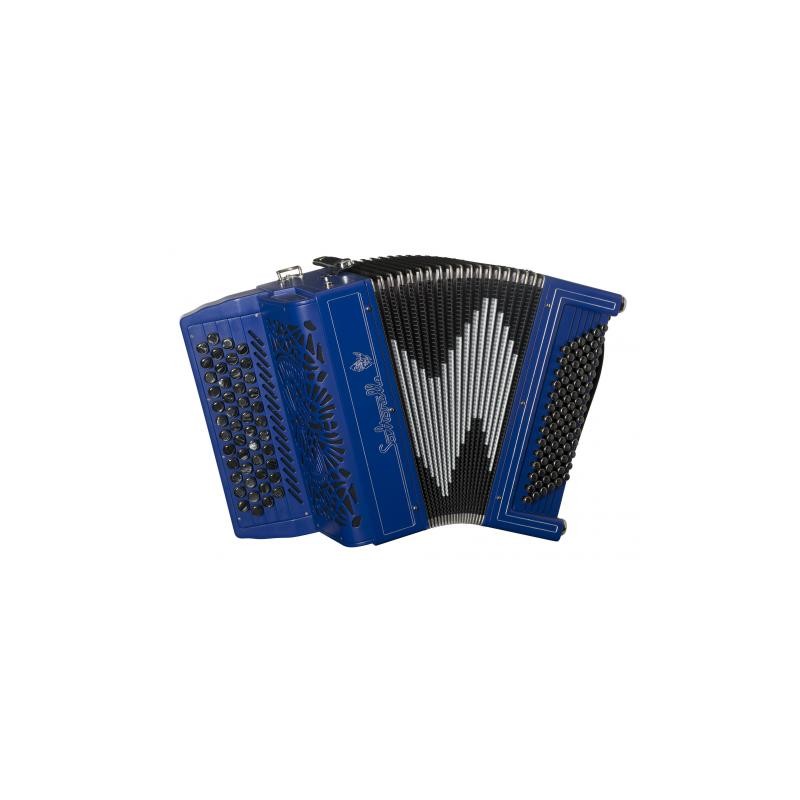 Out of Stock
 
Saltarelle Agapanthe C scale 5 Row Chromatic 62 Button 78 Bass Accordion
Saltarelle Agapanthe C scale 5 Row  Chromatic 62 Button 78 Bass Accordion
The heritage of French design is gathered in this new chromatic accordion. The elegance of the dark mat painting enhanced by the silver lines makes it both vintage and "avant-garde" at the same time. The example shown on the picture features blue matt paint, silver bellows decoration and name plate complimented with black buttons. However the color of the accordion decoration and buttons are your choice at no extra cost.
This accordion is fitted with best quality Italian A Mano hand made reeds as standard.
These are made to order to your specification - Please discuss latest price and delivery delivery times and your specification before purchasing.
To preserve the chique styling, the 5 automatic couplers are located behind the fingerboard and change the tone to 5 possible sounds depending on the reed configuration you choose.
As always on Saltarelle accordions …the fast action keyboard, and precise tuning give the player that world class 'Saltarelle Sound'. The tuning can be of your choice, swing or dry tuned 
 Saltarelle ®'s beauty and sound combined in a compact accordion
Saltarelle is recognised as a top maker of folk accordions and their reputation has been built over many years with an emphasis on quality and particularly reed quality for the professional artist.
Complete with premium straps and custom Saltarelle leather case.

Security policy (edit with Customer reassurance module)

Delivery policy (edit with Customer reassurance module)

Return policy (edit with Customer reassurance module)
Saltarelle Agapanthe C scale 5 Row  Chromatic 62 Button 78 Bass Accordion
Fast action flat keyboard
62 treble buttons
3 treble voices best A Mano hand made Italian reeds
5 automatic treble couplers (behind keyboard)
Choice of tuning, dry, swing, musette etc:
84 bass buttons
Painted solid wood casing to your design
Intricate fret worked grille
Fitted horse-shoe strap brackets
Padded leather bass end strap
Rotella for adjusting the bass end strap
Leather bellows closing straps
Hard-shell carrying case included
Leather adjustable shoulder straps included
Dimensions
Length: 31.4 cm
Width: 19.7 cm
Height: 38 cm
Weight : 7 kg