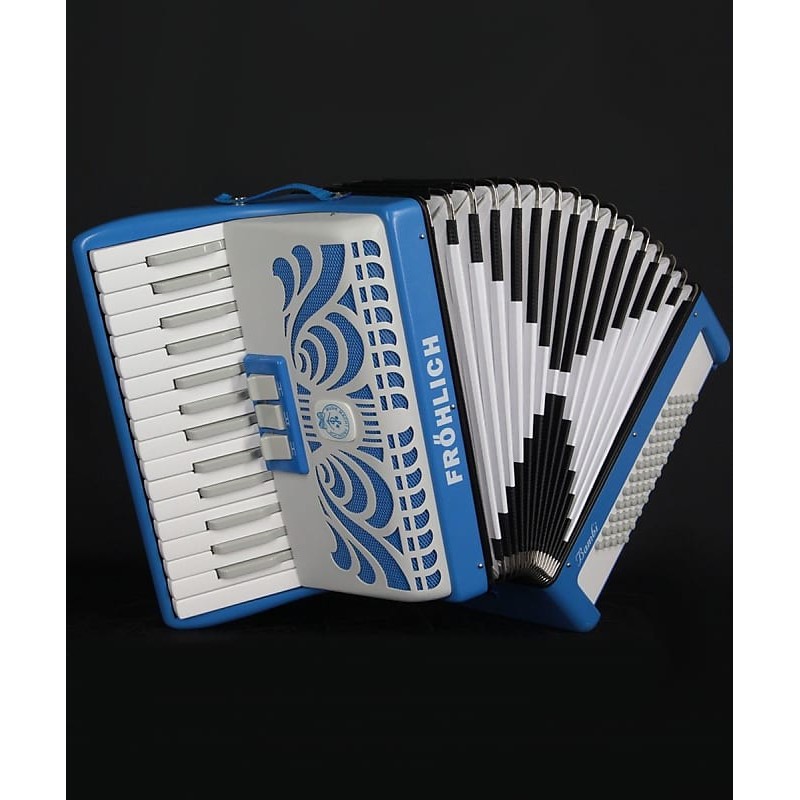 In Stock
 
Fröhlich Bambi 30 key 60 bass Accordion mint condition Used
Tax included
Next working day dispatch
Fröhlich Bambi 30 Key 60 bass accordion in mint condition Used
This accordion was completely overhauled in a professional accordion workshop and is in mint condition.
Fed up with just red or black? this is a beautiful blue and white small compact size accordion and at only 5.6 Kg weight it is an excellent lightweight box for the young, seniors or indeed anyone for travel.  These accordions are around £1350 new so this one like new and really good value for money.
Made in Germany by the well respected Weltmeister company, it is a lighter more compact model than most standard 72 bass accordions. Much superior quality keyboard action and tone than the usual 30 key Chinese models, Chanson, Stephanelli, parrot etc.  It has a nice bright tremolo that is ideal for a wide range of music styles.   Perfect if you need something light and easy to carry on holiday, flight or to a festival or fleadh.
These are hard to find in this condition so grab it while you can.
Complete with used straps and gig bag.

Security policy (edit with Customer reassurance module)

Delivery policy (edit with Customer reassurance module)

Return policy (edit with Customer reassurance module)
Fröhlich Bambi 30 key 60 bass Accordion mint condition Used
Type: Piano
Treble Keys: 30 (17.5mm wide) g - c
Bass Keys: 60
Reed quality: Standard German
Treble Reeds: 2
Bass Reeds: 3
Treble Tuning: MM
Colour: Blue/white
Key finish: White
Couplers: 3 (two different tones)
Bass couplers: 0
Keyboard length (including cheeks): 33.2cm
Key Width: 17,5mm
Bellows width (front to back): 18.2cm
Width (bass to treble total width): 
Weight: 5.6Kg
Made in : Germany
Froh-bambi-30/60/ bu-used