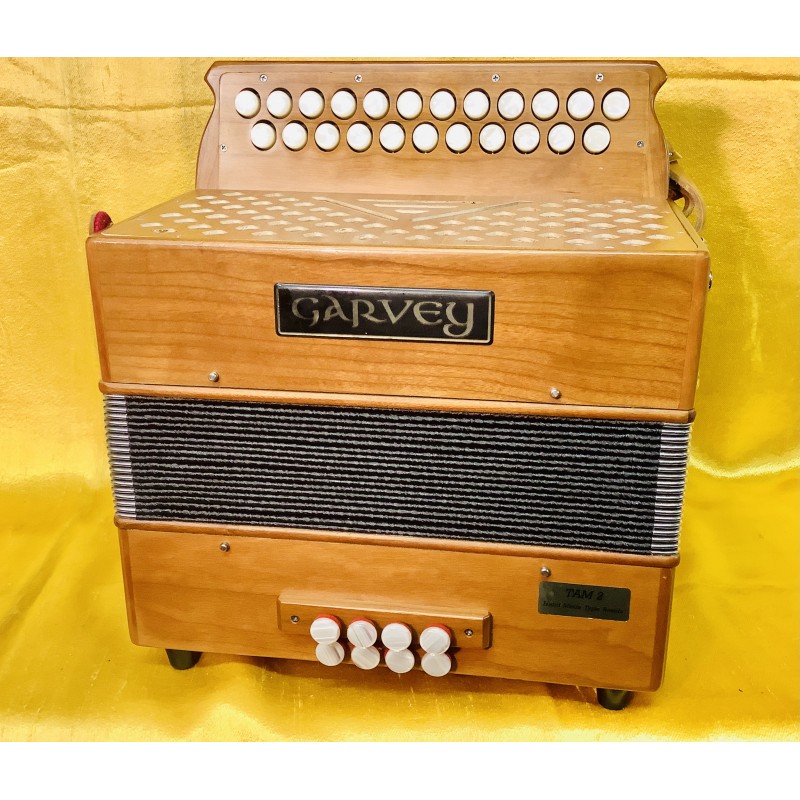 Out of Stock
 
Garvey Midi Treble Side B/C TAM2 Irish Style Button Accordion Used
Garvey TAM2 Midi B/C Irish Style Button Accordion Used.
Price includes free delivery to UK and Ireland
Rare opportunity to buy a lightweight (only 4Kg) B/C accordion with midi system (treble side only) and microphones fitted (both treble and bass). Perfect for the gigging musician. With 23 treble buttons and 8 basses it is in almost new condition with little signs of use.
Fitted with a modern magnetic sensor midi system complete with internal sound card on treble side this accordion can produce its own sounds without the need to buy a separate sound module.  Sounds can be selected from the treble buttons.  A standard midi socket is also provided for connection to sound module, midi keyboard, iPad, computer or smart phone to generate even more sounds.
Open a whole new world of music, play sax, piano, banjo, guitar, organ and many more sounds to enhance your enjoyment
Good quality microphones are also fitted so box this is the perfect answer for the professional musician.
The accordion is a b/c suitable for most music types and has 2 sets of good quality swing tuned Tipo a Mano hand finished reeds.  The keyboard and button action are responsive to allow you to play to a high standard.
Power supply box, a pair of padded shoulder straps and gig bag are included.
We have a range of affordable used and new sound modules and Amps on our P/A midi page if you need one and can offer an affordable package deal, please contact me to discuss your needs or for advice.

Security policy (edit with Customer reassurance module)

Delivery policy (edit with Customer reassurance module)

Return policy (edit with Customer reassurance module)
Rossini Midi 2 Row B/C Irish Style Button Accordion Used
Treble  buttons: 21
Bass buttons: 8
Reed quality: NO Reeds fitted
colour: Red
Button finish: White
Couplers: 0
Bass couplers: 0
Keyboard length (including cheeks): 28 cm
Bellows width (front to back): 15 cm
Width (bass to treble total width): 29 cm
Weight: 2 kg
Made in: China
Midi system made in Scotland.