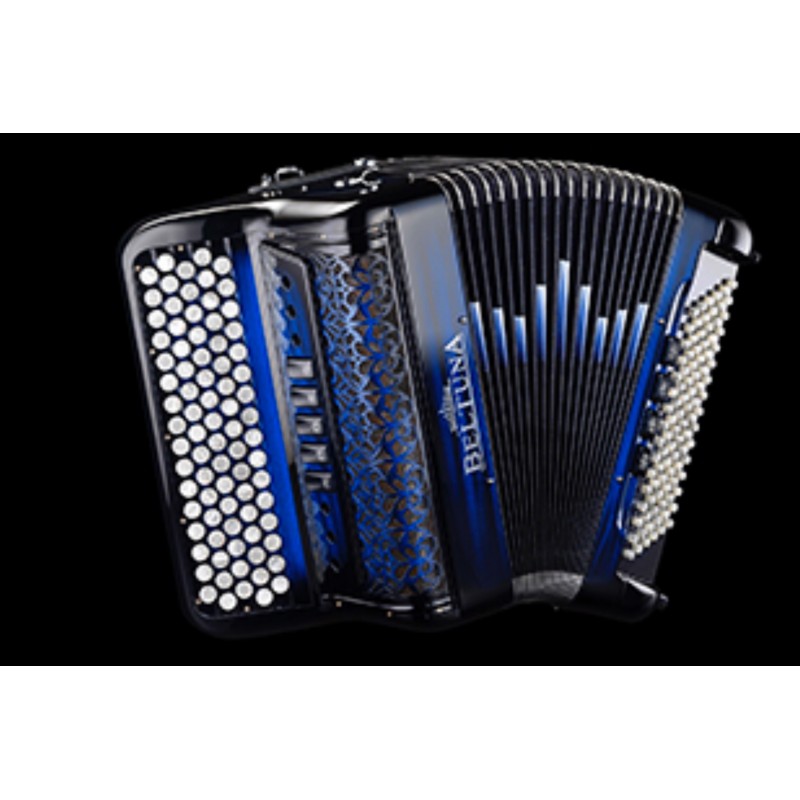 Out of Stock
 
Beltuna C Scale 5 Row Midi Chromatic accordion 82/96 bass
Beautiful Beltuna Studio 300 blue shadow 5 row C scale Scottish Musette chromatic accordion.
This one has 3 sets of quality Italian hand made A Mano reeds in Scottish musette MMM reed configuration.
Factory fitted with a MusicTech Qlink midi system; this is the perfect combination for all your musical needs.
This model is an 82 button 96 bass compact size accordion.
Complete with pair of straps and gig bag or hard shell case.
Price includes free delivery to UK and Ireland.
Beltuna accordions owe their popularity to the great care and attention with which every single part, structural or musical, is made.
Nearly all phases in the production and assembly of Beltuna accordions are completed in-house. Only a limited number of parts are commissioned from master craftsmen who are carefully selected and supervised.
Beltuna quality is the result of years of continuous development.  This accordion can be customised to your preferred tuning or alternative midi system.

Security policy (edit with Customer reassurance module)

Delivery policy (edit with Customer reassurance module)

Return policy (edit with Customer reassurance module)
Beltuna Blue Shadow C Scale 5 Row Midi Chromatic accordion 82/96 bass
Treble Keys: 82
Bass Keys: 9
Reed quality: Hand made
Treble Reeds: 3
Bass Reeds: 4
Treble Tuning: MMM
colour: Blue shadow
Key finish: White pearloid
Couplers: 5
Bass couplers: 3
Keyboard length (including cheeks): 44
Bellows width (front to back): 19
Width (bass to treble total width): 41
Weight: 10.4kg