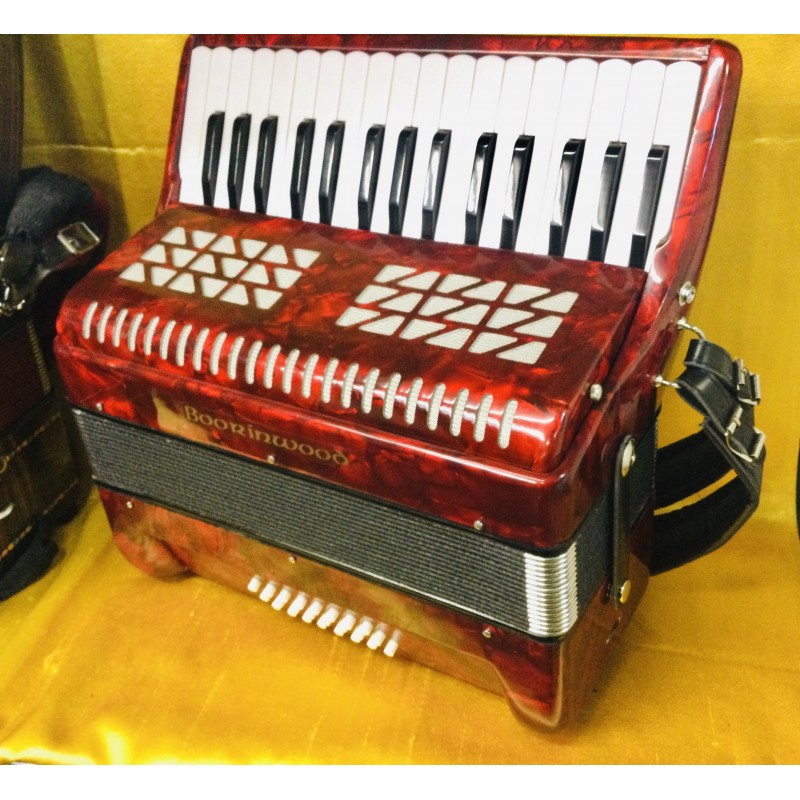 In Stock
 
Boorinwood 32 key 24 bass Piano Accordion Used
Tax included
Next working day dispatch
Boorinwood 32 key 24 bass Piano Accordion Used

Price includes free postage UK and Ireland
This Boorinwood 32 key 24 bass is almost like new with wrist strap protective sleeve still in place.  This is an excellent small size lightweight accordion for a beginner, carrying around festivals or for travel at only 6Kg weight.
It has a nice sweet tremolo tone that is ideal for a wide range of music styles. These accordions have nice action 32 reduced size keys that give a much improved range of notes over the usual 26 key and have 24 bass with 2 sets of reeds.
These are the last few so grab one while you can.
Complete with padded straps and choice of used case or gig bag (Please advise which you prefer when making the order).

Security policy (edit with Customer reassurance module)

Delivery policy (edit with Customer reassurance module)

Return policy (edit with Customer reassurance module)
Boorinwood 32 key 24 Bass Piano Accordion Used

Type: Piano
Treble Keys: 32
Bass Keys: 24
Reed quality: Standard
Treble Reeds: 2
Bass Reeds: 3
Treble Tuning: MM
Cassotto: No
Colour: Red
Key finish: White
Couplers: 0
Bass couplers: 0
Keyboard length (including cheeks): 41 cm
Bellows width (front to back): 17 cm
Width (bass to treble total width): 38 cm
weight 6kg