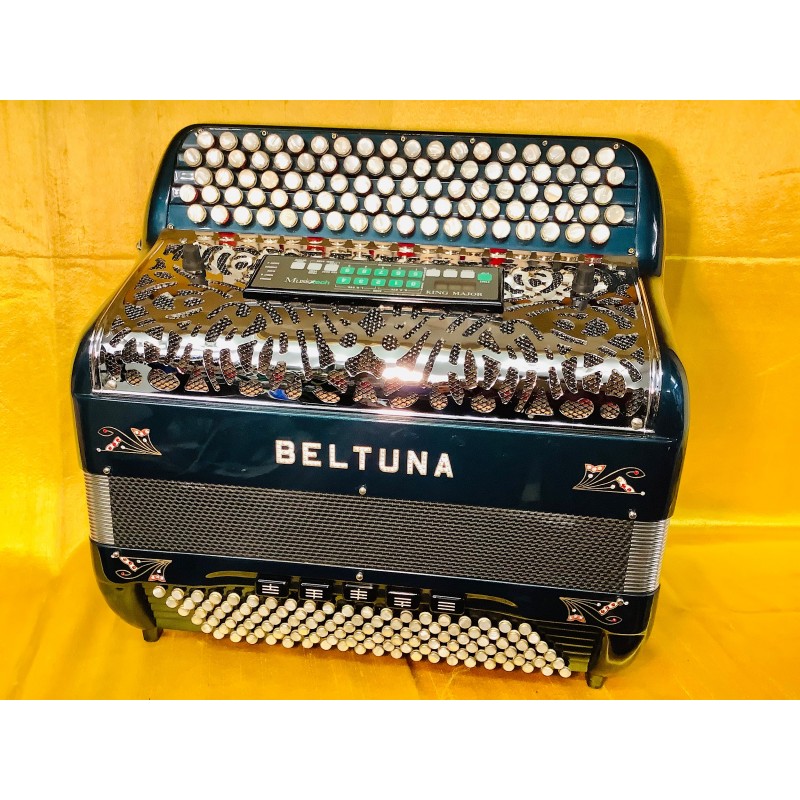 In Stock
 
Beltuna Full Midi C Scale Chromatic French Style Accordion 3+3 bass Layout Used
Tax included
Next working day dispatch
Beltuna 5 Row Midi C Scale Chromatic Scottish Musette French Layout (3+3) Accordion 92/120 bass Used.
Accordion reeds and midi system fully serviced and tested working perfectly.
Absolutely beautiful metalic green Beltuna accordion specified and played by Finton Stanley well known Irish accordionist. It has 4 sets of best hand made Italian reeds that produce a powerful sound.  It has the high build quality expected from Bultuna, one of the best accordion manufacturers in Italy. 
The bass has 3 rows of chords Maj, Min and 7th and 3 rows of bass button to allow extra freedom to play a wider range of chords.
Factory fitted with a Musictech Music Maker programmable midi system.
With tasteful decoration, this Accordian is excellent value for money
This is the 4 voice Scottish musette model LMMM reed configuration.
Complete with pair of straps and hard shell case or gig bag.
part exchange considered.

Security policy (edit with Customer reassurance module)

Delivery policy (edit with Customer reassurance module)

Return policy (edit with Customer reassurance module)
Beltuna 5 Row Midi C Scale Chromatic Scottish Musette French style Accordion 92/120 bass Used
Treble Keys: 93
Bass Keys: 120
Reed quality: Hand made
Treble Reeds: 4
Bass Reeds: 5
Treble Tuning: LMMM
colour: Métaliers green chrome grille and decoration
Key finish: White pearloid
Couplers: behind keyboard
Bass couplers: 5
Keyboard length (including cheeks): 44
Bellows width (front to back): 19
Width (bass to treble total width): 41
Weight: 11.4kg