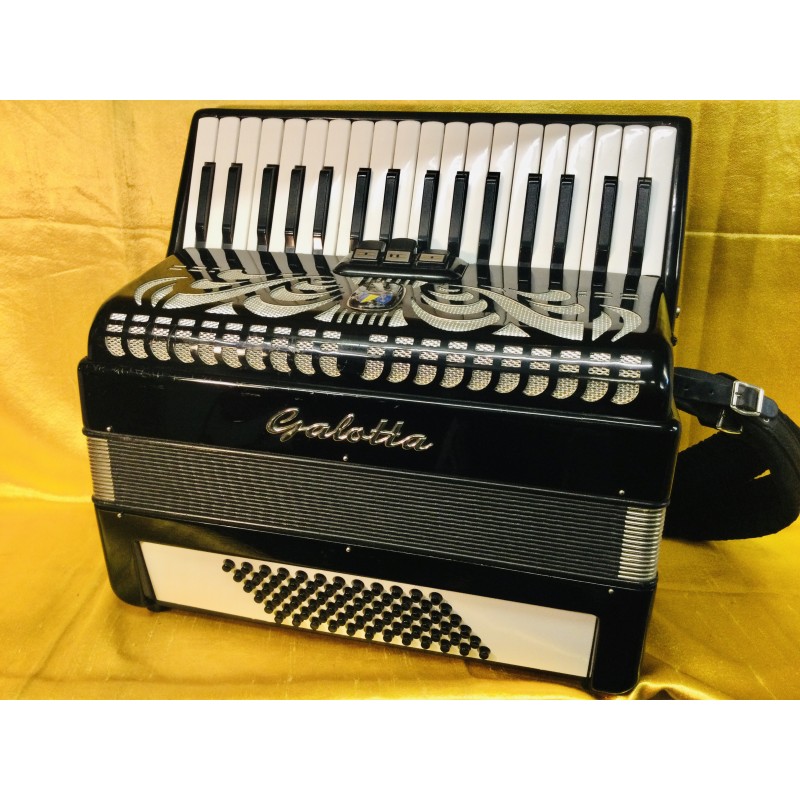 Out of Stock
 
Galotta Lightweight 34 Key 72 Bass 2 Voice Piano Accordion Used
Galotta 34 Key 72 Bass 2 Voice Piano Accordion Used
A good quality medium size piano accordion made in Germany by one of the worlds most famous German accordion manufacturers.  This one has a nicely tuned in 2 voice tremolo ideal for all types of music. Reed layout is MM.  These accordions have a really solid reputation worldwide and have a good action 34 key keyboard, well designed grille, 72 bass and 2 sets of quality German reeds.
It has been well cared with few signs of use and this is a nice example of this well respected model so grab it while you can. Tuning, valves and bellows compression all good.
Complete with wide straps and case or gig bag.

Security policy (edit with Customer reassurance module)

Delivery policy (edit with Customer reassurance module)

Return policy (edit with Customer reassurance module)
Galotta 34 Key 72 Bass 2 Voice Piano Accordion

 Used

Type: Piano

Treble Keys: 34

Bass Keys: 72

Reed quality: German standard

Treble Reeds: 2

Bass Reeds: 4

Treble Tuning: MM

Cassotto: No

Colour: Black

Key finish: White

Couplers: 3

Bass Couplers: 0

Keyboard length (including cheeks): 

Bellows width (front to back): 

Width (bass to treble total width): 

Weight: 7.5