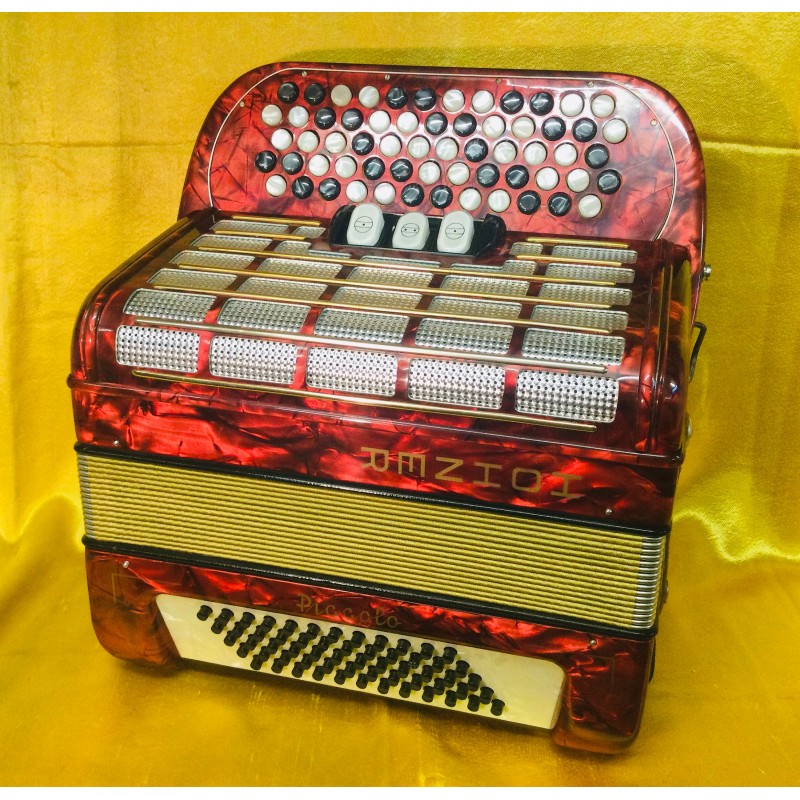 In Stock
 
Hohner Piccolo C Scale Lightweight 60 bass 5 Row Used
Tax included
Next working day dispatch
Hohner Piccolo C Scale Lightweight 60 bass 5 Row Used
These are a really compact light weight accordion only 5.5 Kg and not much bigger than a 2 row Hohner Amatona.  Really difficult to find in pristine condition so this is a real bargain at this price.
This is a beautiful condition 62 button 60 bass C Scale chromatic accordion. It is probably late 1970s/early 1980s vintage so fully German made with high quality materials.
 It has been well cared with only very very minimal signs of use. Perfect for a learner, travel box or for carrying around festivals. Has a modern padded wrist strap fitted for extra comfort.
With a high build quality this accordion has a pleasant bright tremolo tuning on 2 sets of reeds in MM configuration. A really quality sound in a very compact instrument.
The Hohner company is recognised as a top supplier of accordions from Germany and their reputation has been built over many years with a special emphasis on quality and affordability.
Complete with padded straps and original Hohner hard case also in beautiful condition.
These don't come up for sale very often in this beautiful condition so don't let it get away.

Security policy (edit with Customer reassurance module)

Delivery policy (edit with Customer reassurance module)

Return policy (edit with Customer reassurance module)
Hohner Piccolo C Scale Lightweight 60 bass 5 Row Used
Type: Chromatic C scale
Treble Keys: 62
Bass Keys: 60
Reed quality: Standard Hohner.
Treble Reeds: 2
Bass Reeds: 4
Treble Tuning: MM tremolo
Cassotto: No
Colour: Red/Gold colour bellows, Grille & trim
Key finish: White/black pearloid
Couplers: 2
Keyboard length (including cheeks): 33 cm
Bellows width (front to back): 18.5 cm
Width (bass to treble total width): 35 cm
Weight : 5.5 Kg
Hoh-pic-60/72/2C-5row-used