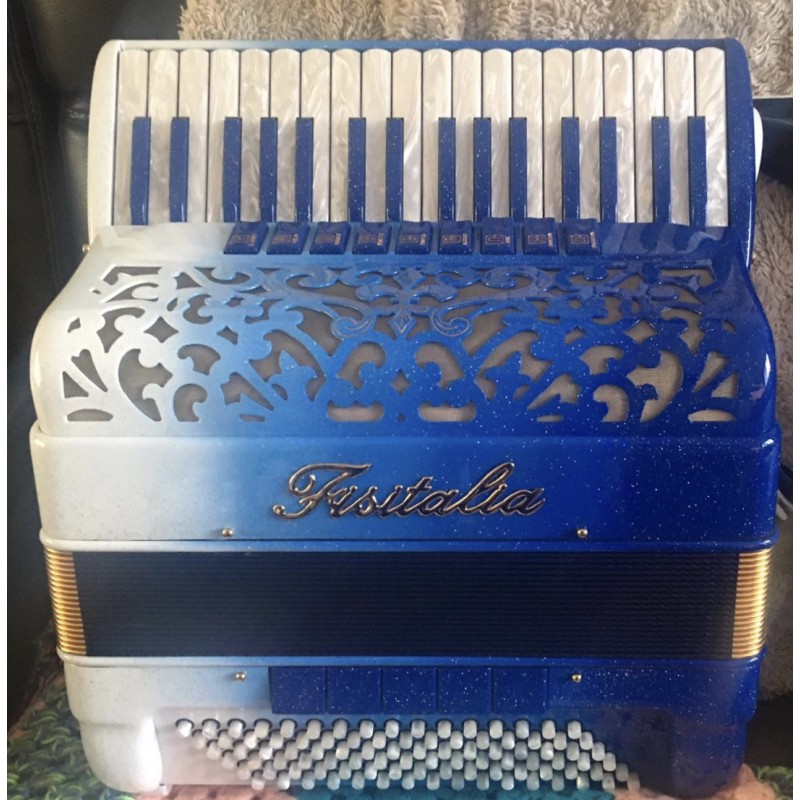 In Stock
 
Fisitalia 34/96 Midi Double Cassotto Musette
Tax included
Next working day dispatch
Fisitalia 34/96 Midi Double Cassotto Musette
This accordion was bought new a few months ago and has hardly been played due to Covid restrictions so it is practically new.  This are a much sought after small lightweight double cassotto piano accordion with a very high build quality and superb sound.
This model is a 34 key 96 bass with the benefit of double cosotto or tone chambers on the bassoon and clarinet reeds.  Really rich quality sound in a nice compact instrument.
This is the 4 voice Scottish musette tuned model in a custom finish of bespoke blue sparkle effect blended into white, a stunning accordion.
A Blueline midi system has been installed on both treble and bass sides for a fully professional standard instrument.
Fisitalia is an established well respected maker of hand built Italian accordions and currently considered one of the best.  Their reputation has built over a very long time with especial emphasis on quality and particularly reed quality.
Complete with stylish white wide premium straps and Fisitalia Italian leather case.
A chance to get a superb custom accordion at this amazing price.
I ship worldwide with shipping to UK and Ireland free, other destinations call me for a quote.

Security policy (edit with Customer reassurance module)

Delivery policy (edit with Customer reassurance module)

Return policy (edit with Customer reassurance module)
Fisitalia 34/96 Midi Double Cassotto Musette
Treble Keys: 34
Bass Keys: 96
Reed quality: Hand made
Treble Reeds: 4
Bass Reeds: 5
Treble Tuning: LMMM
Cosotto: Yes
Colour: blue/blue sparkle/white
Key finish: Pearloid
Couplers: 9
Bass couplers 5
Keyboard length (including cheeks): 38.5
Bellows width (front to back): 19
Width (bass to treble total width): 43
Weight: 10Kg