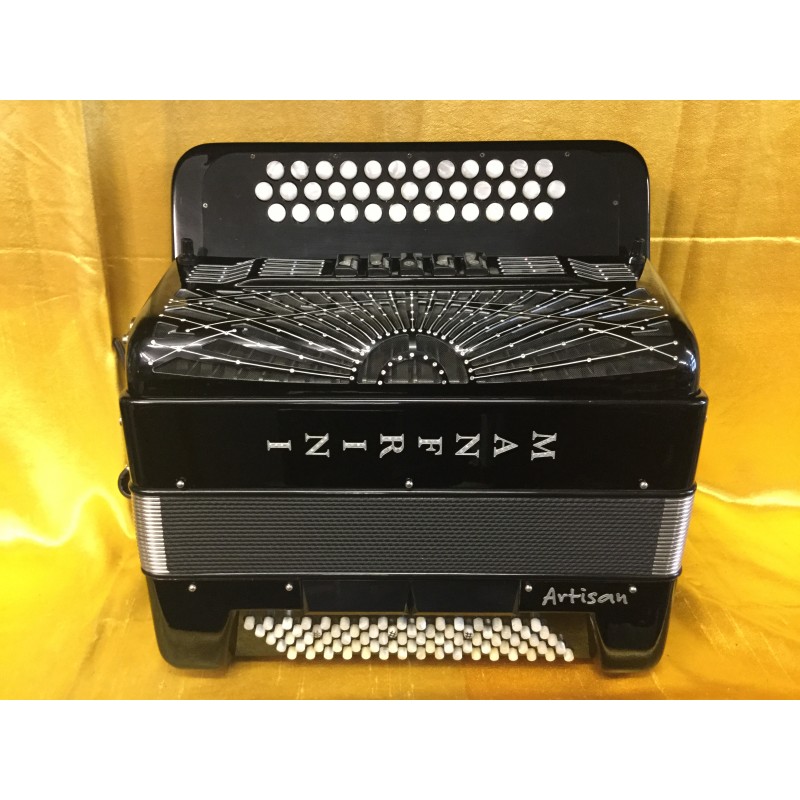 In Stock
 
Manfrini Artisan Midi 3 Row Accordion B/C/Cs with full Musictech system and Mics Used
Tax included
Next working day dispatch
Manfrini Artisan 3 Row Accordion 
B/C/C#
with full Musictech midi system and Mics Used
New price is around £4,595 plus £1000 for a Musictech midi system and £550 for Musictech mics.  Total new cost even with a good discount would be around £6,000.  This is one is an absolute bargain
Beautiful condition 3 row button key accordion with 4 sets of quality Italian made reeds.  It has the high build quality expected from an Italian hand built accordion. It has a superb Scottish musette sound.  This model is an 37 button 80 bass mid size accordion.
With well vented grille, this traditional Scottish Jimmy Shand style accordion is excellent value for money
This is 4 voice Scottish musette model LMMM reed configuration.
Complete with pair of straps and Manfrini case.

Security policy (edit with Customer reassurance module)

Delivery policy (edit with Customer reassurance module)

Return policy (edit with Customer reassurance module)
Manfrini Artisan 3 Row Accordion 
B/C/C#
with full Musictech midi system and Mics Used
Reed quality: Hand finished
Treble Reeds: 4
Bass Reeds: 5
Treble Tuning: LMMM
colour:  black
Button finish: White pearloid
Couplers: 5
Bass couplers: 2
Keyboard length (including cheeks): 
Bellows width (front to back): 
Width (bass to treble total width): 
Weight: kg