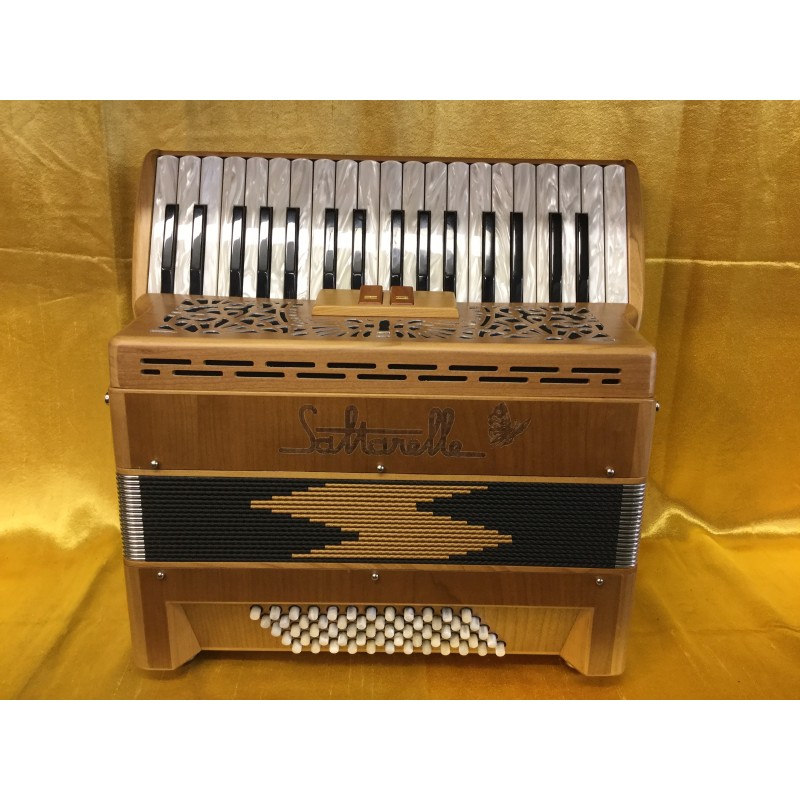 In Stock
 
New Saltarelle Clifden Swing Tuned Piano Accordion 60 bass 2 voice
Tax included
Next working day dispatch
New Saltarelle Clifden Swing Tuned Piano Accordion 60 bass 2 voice
ONLY ONE LEFT IN STOCK
NORMALLY MANUFACTURED TO ORDER - CONTACT US FOR DELIVERY TIME
The Saltarelle Clifden is the accordion of choice for Irish traditional and folk musicians and indeed with many other accordionists that favour a light responsive professional instrument.
Fitted with hand made reeds as standard, it is easily capable of meeting the highest demands of any musician and produces a powerful rich sound.
The additional low D key allows additional harmonics and D double stops at the lower end of the scale.
These can be ordered in the tuning of your choice. The most common is the 

MM reed configuration which is a 

2 voice Irish dry tuned or 

swing tuned model 

if you prefer a sweeter sound. This one is the swing tuned model.  See my other dry tuned listing if you prefer less tremolo.
These are recognised as the must have for top performers and top level competition 
Complete with Saltarelle padded straps and case or gig bag. 

Security policy (edit with Customer reassurance module)

Delivery policy (edit with Customer reassurance module)

Return policy (edit with Customer reassurance module)
New Saltarelle Clifden Piano Accordion 35 Key 60 bass 2 voice
Treble Keys: 35 Low D to E
Bass Keys: 60
Reed quality: Hand made A Mano
Treble Reeds: 2
Bass Reeds: 3
Treble Tuning: MM or LM (Irish swing tuned)
Colour: 
Natural cherry wood casing with I 
ntricate fret worked grille
Key finish: Pearl
Couplers: 2
Bass couplers: 
Fitted horse-shoe strap brackets
Padded leather bass end strap
Rotella for adjusting the bass end strap
Keyboard length (including cheeks): 39
Bellows width (front to back): 16.5
Width (bass to treble total width): 37.5
Weight: 6.7kg