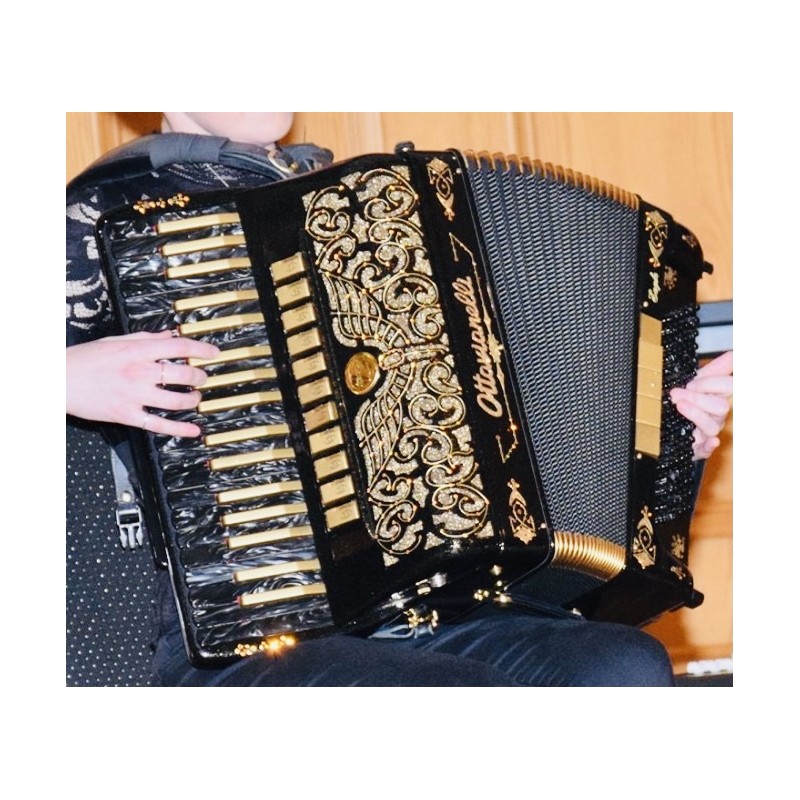 In Stock
 
Ottavianelli Eagle Gold Midi Custom Built 4 Voice Musette Double Cassotto Piano Accordion 37/96 Used
Tax included
Next working day dispatch
Ottavianelli Eagle Gold Midi Custom Built 4 Voice Musette Double Cassotto Piano Accordion 37/96 Used
This custom design is the nicest accordion I have ever seen and is a work of art.  It is a 4 voice compact double cassotto Scottish musette tuning in mint condition throughout.
Three voice Scottish musette tuning LMMM Reed configuration plus basson reeds with clarinet and basson in cassotto tone chambers.  This is a very versatile instrument suitable for all styles of music.

Also equipped with a reliable Master Midi System on both treble and bass sides, this is a truly professional accordion from world respected ltalian manufacturer Ottovianell.  With midi fitted this acordion costs around £9500 new and is being offered for sale at this amazing price.
Contact us to arrange a viewing or demo.  A video can be made for serious buyers.
This is a rare chance to buy a unique design professional accordion at this affordable price.

Security policy (edit with Customer reassurance module)

Delivery policy (edit with Customer reassurance module)

Return policy (edit with Customer reassurance module)
Ottavianelli Eagle Gold Midi Custom Built 4 Voice Musette Double Cassotto Piano Accordion 37/96 Used
Compact model
•  37 treble keys (F-F)
•  96 bass
•  Double cassotto (8'+16)
•  4 sets of best Hand made A Mano treble reeds (8'+8'+8'+16')
•  5 sets of bass reeds
•  11 treble registers and palm master
•  5 bass registers
•  Sparkle black finish with gold fittings, black pearloid keys and bass buttons, gold half notes and black bellows.
•  Master Midi system fitted 
Keyboard Length (including cheeks) 47 cm
Key width 19mm
Width(keyboard edge to feet 46 cm
Bellows depth 26 cm
•  Weight: 12 Kg
•  Complete with hard case or Italian gig bag and padded Italian leather shoulder straps
Otta-Eagle-37/96midi-black-used