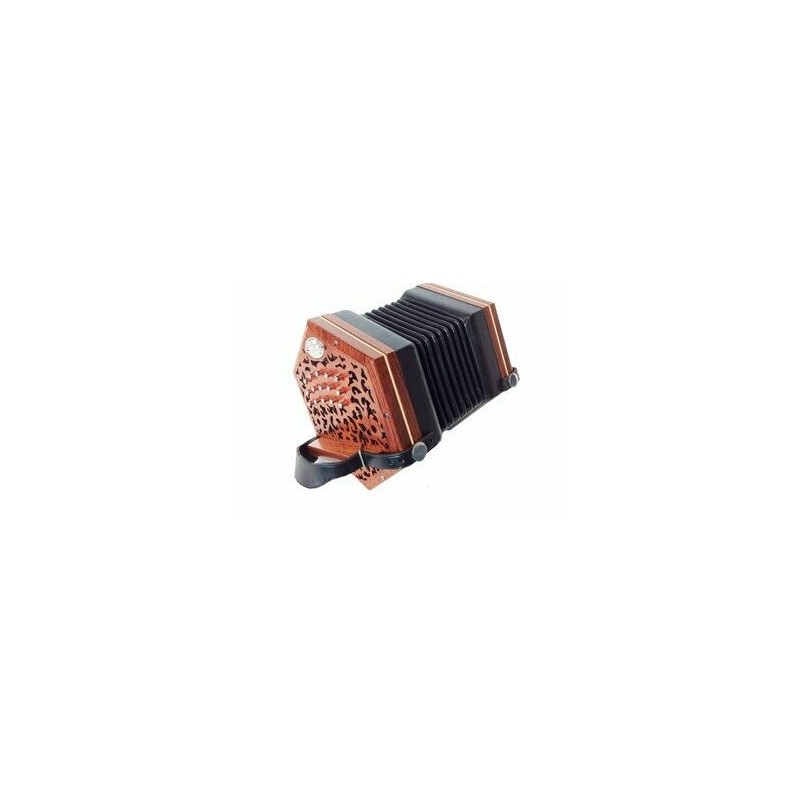 Out of Stock
 
New Vintage Anglo Concertina G/C 30 button Rosewood Jeffries Layout
New 'Vintage' Concertina in Rosewood (Jeffries layout)
These have a 10 weeks waiting time but I have One only in stock do grab it while you can.
The Vintage model is hand crafted by the Irish Concertina Company in Dublin in the time honoured traditional way of the masters Jeffries, Wheatstone and Lachenal with:

separate hardwood reed pans

top quality brass plate reed shoes 

traditional

steel c

oncertina reeds

hand crafted 7 fold high grade leather bellows for effortless movement.

Beautiful 19th century design inspired grill pattern
Comfortable touch high shine steel buttons
Classic look silver thumbscrews
Button action is superb with every button set to 30 gram pressure ensuring an even responsive action throughout. Individually riveted levers provide the light touch instant response needed for fast ornamentation and rolls that are an essential for development of performance and competition.
These concertinas are highly respected by Irish concertina players as good session and competition level instruments.  They have company confidence to offer a 5 year guarantee so worth the investment.  
Price includes hard case and postage to UK and Ireland free.

Security policy (edit with Customer reassurance module)

Delivery policy (edit with Customer reassurance module)

Return policy (edit with Customer reassurance module)
Features of 'The Vintage' Concertina include:
Features Of The Vintage Include:
30 Button C/G Concertina

Brass plate Concertina reeds

Dovetailed reed slots

7 fold leather bellows

Solid Exotic Hardwood Ends (Optional Inlay) this one is Rosewood.

Riveted levers, Responsive Action

Button Pressure 30 grams

5 Year Guarantee
– Rosewood Ends
– Traditional dome headed silver buttons
– Riveted levers with responsive action
– Traditional felt bushing around buttons
– 6 fold quality leather bellows
Includes a Quality Hard Case
postage to UK and Ireland free.