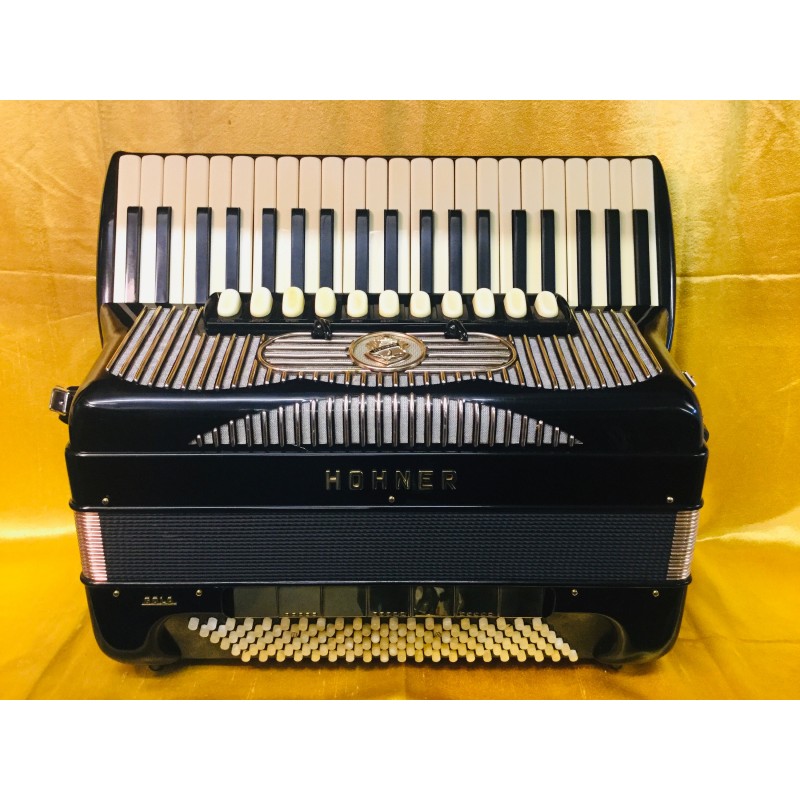 Out of Stock
 
Rare 1961 Hohner Gola 414 Piano Accordion Used
Hohner Gola 414 Double Octave Tuned 120 Bass Accordion
This highly sought after, top quality accordion is widely regarded as one of the finest accordions ever produced, The Hohner Gola is still the choice of many world class players, with new models costing in excess of £30000 and  taking up to a year to build. 
This stunning example has recently undergone a full internal and external restoration (including a full refurbish of the gold plating)  lovingly and painstakingly undertaken by a former Hohner workshop manager using only original Hohner parts. 
This world class accordion has among athe finest hand made reeds ever produced and features straight four voice double octave tuning and double cassotto chamber, which together help to create a unique rich sound, which is uniquely both bright and powerful but with use of the cassotto and grille mute produces a warm and mellow tone. making it ideal for the classical and jazz styles of playing. 
The truly outstanding Gola sound is in part due to the exceptional quality of the hand crafted reed plates as each were individually selected in Italy by Gola himself, ensuring that the initial response of each reed occurred at an identical air pressure 
This Hohner Gola was personally hand finished and checked over by Giovanni Gola himself and emery paper used rather than a file to avoid scratching the reeds.  Complete with padded straps, original case for old times sake and a brand new Italian made gig bag.

Security policy (edit with Customer reassurance module)

Delivery policy (edit with Customer reassurance module)

Return policy (edit with Customer reassurance module)
Hohner Gola 414 Double Octave Tuned 120 Bass Accordion
Treble Keys: 41
Bass Keys: 120
Reed quality: Finest Italian Hand Made (A Mano)
Treble Reeds: 4


Bass Reeds: 5
Treble Tuning: LMMH Straight
colour: Black
Key finish: Ivory
Couplers: 11 + palm
Bass couplers: 7
Keyboard length (including cheeks) 48.5
Bellows width (front to back): 19.5
Width (bass to treble total width): 41
Weight
: 
12.25 Kg. - 27 Lbs.