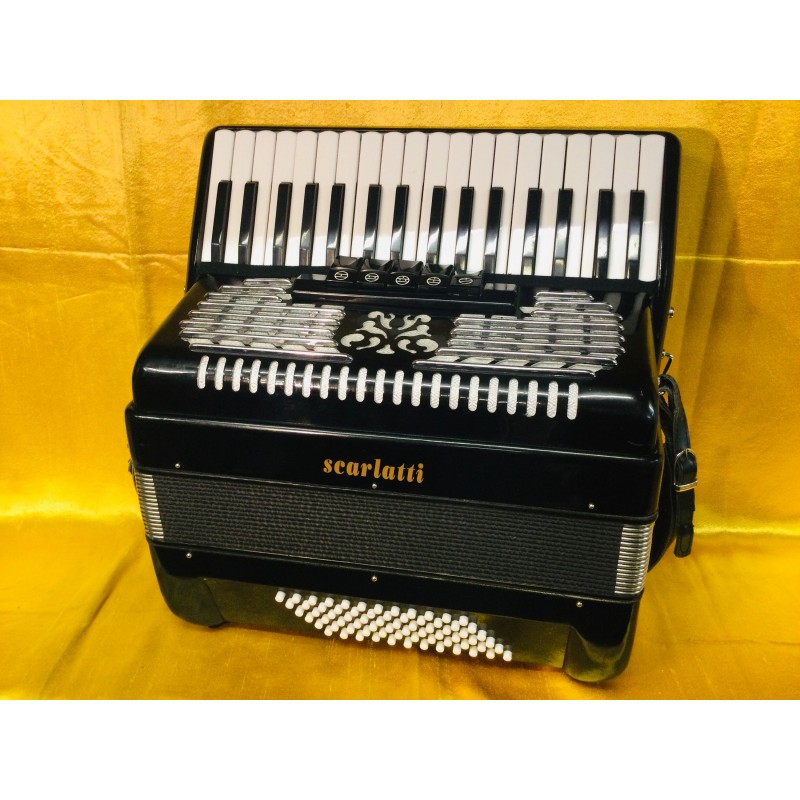 In Stock
 
Scarlatti 34 key 72 bass 3 voice Piano Accordion Black Used
Tax included
Next working day dispatch
Scarlatti 34 key 72 bass 3 voice Piano Accordion Black Used
This is an affordable entry level medium size accordion that is light and compact.  It is a traditional style model tuned in a pleasing tremolo tone that is ideal for a wide range of music styles.  Perfect if you need an instrument that is reliable and affordable.
Overall condition is very good with one small hairline crack at the bottom of the bass end,  this does not affect the functioning of the instrument. The price has been reduced accordingly. These are over £650 new so this one is a real bargain at this price
Complete with case or gig bag and padded straps.

Security policy (edit with Customer reassurance module)

Delivery policy (edit with Customer reassurance module)

Return policy (edit with Customer reassurance module)
Scarlatti 34 key 72 bass 3 voice Piano Accordion Black Used

Type: Piano
Treble Keys: 34
Bass Keys: 72
Reed quality: Standard
Treble Reeds: 3
Bass Reeds: 4
Treble Tuning: LMM
Colour: Black
Key finish: White
Couplers: 5
Bass couplers: 0
Keyboard length (including cheeks): 44.5
Bellows width (front to back): 19
Width (bass to treble total width): 41
Weight: 8Kg