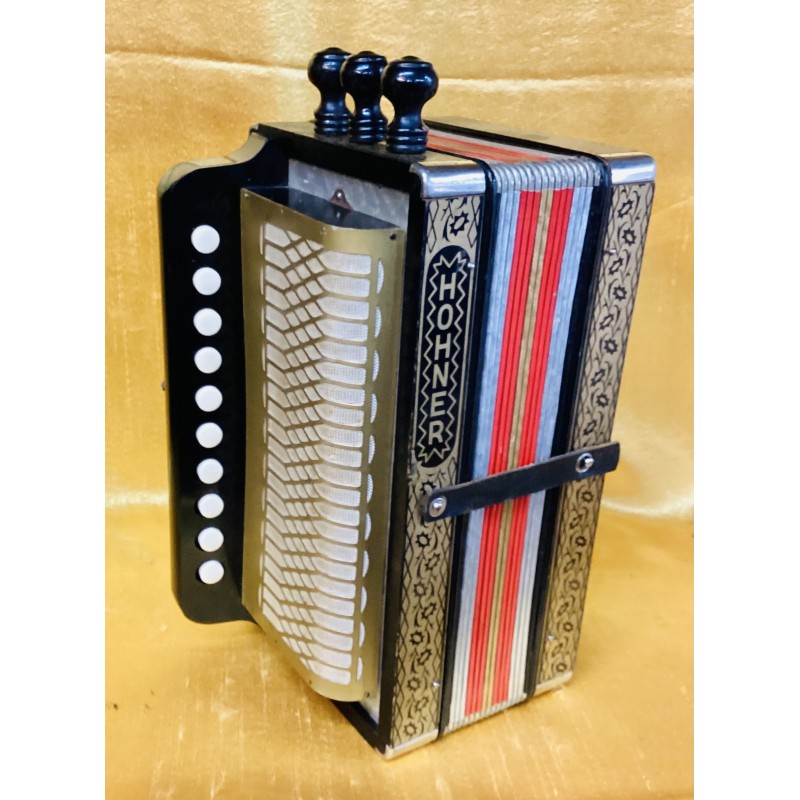 In Stock
 
Hohner 113C. 3 Stop Cajun Melodeon key C Used
Tax included
Next working day dispatch
Hohner 113C 3 Stop Melodeon in key C Used with some small marks and wear.
Free postage to UK and Ireland, other destinations please contact me for a shipping quote.
Made by top German manufacturer Hohner, this is a single row 10 button 2 bass melodeon tuned in key of C perfect for Irish traditional or Cajun music.  It is in nice condition for its age with the usual signs of use and the bellows in nice condition with the usual minor signs of tarnishing.  Compression is good.
This little box will give the original traditional Irish melodion sound cherished for Sean nos style music and dance.
It is well tuned with good quality Hohner quality reeds in the traditional LMM reed configuration.
This one is as original factory specification so doesn't have strap brackets.  If you wish, I will fit new brackets and supply a shoulder strap.
No cases were supplied with these melodeons.

Security policy (edit with Customer reassurance module)

Delivery policy (edit with Customer reassurance module)

Return policy (edit with Customer reassurance module)
Hohner 113C 3 Stop Melodeon in key C Used
Treble  buttons: 10
Bass buttons: 2
Reed quality: Hohner
Treble Reeds: 3
Bass Reeds: 3
Treble Tuning: LMM key C
colour: Gold/ black pokerwork
Button finish: White
Couplers: 3 stops
Bass couplers: 0
Keyboard length (including cheeks): 
Bellows width (front to back): 
Width (bass to treble total width): 
Weight:3 kg