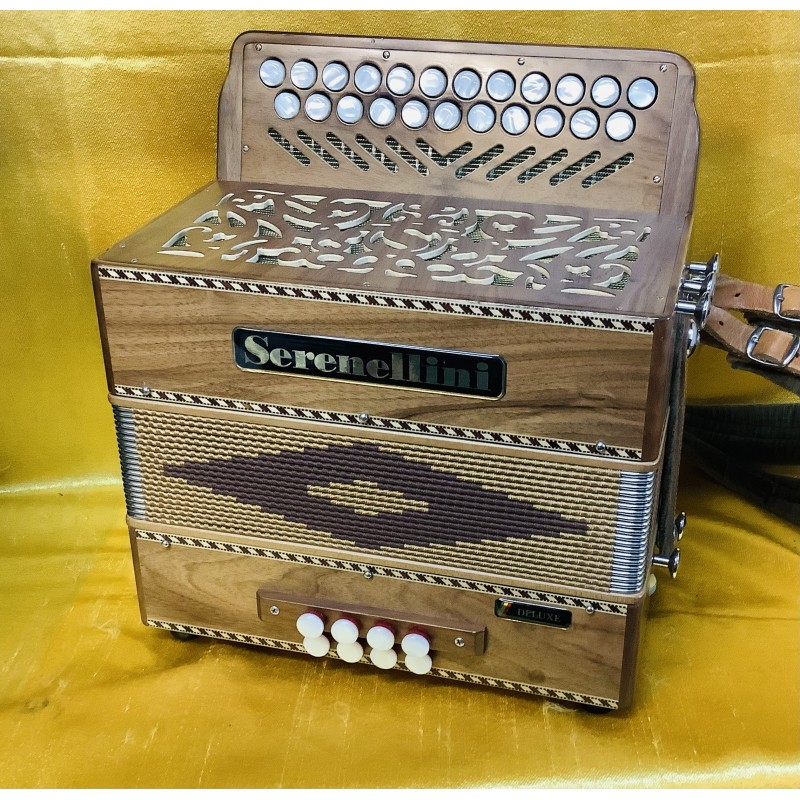 Out of Stock
 
Serenellini Deluxe D/G Button Accordion
New Serenellini 233 Deluxe 3 voice 2 Row acordion D/G
Serenellini 233 Deluxe Wooden 3 voice 2 Row Irish dry tuned accordion 23 button 8 bass with 3 stops on treble side and 2 stops bass side to remove the third from the chords to play tunes in a minor scale and to remove low bass reed
One of the classics of the Serenellini Irish range, this small accordion is designed specially for Irish music is a good fit for accomplished and casual players looking for a light and small accordion easy to handle.
Lovely walnut wood finish with tasteful fretwork on the grille, this beautifully crafted accordion from Italy has a light, fast action with excellent volume and tone.
Complete with a Padded straps and Serenellini case.
Product customization
Don't forget to save your customization to be able to add to cart

Security policy (edit with Customer reassurance module)

Delivery policy (edit with Customer reassurance module)

Return policy (edit with Customer reassurance module)
New Serenellini 233 Delux 3 voice 2 Row acordion D/G
In Immaculate condition
Treble  buttons: 23
Bass buttons: 8
Reed quality: Italian tipo a Mano
Treble Reeds: 3
Bass Reeds: 3
colour: wood
Button finish: White pearloid
Treble Couplers: 3 stops
Bass couplers: 2 stop to remove middle thirds from chords and the low bass bass
Dimensions (L x w x h) : 27,8 x 14,9 x 29,3 cm
Weight : 4kg