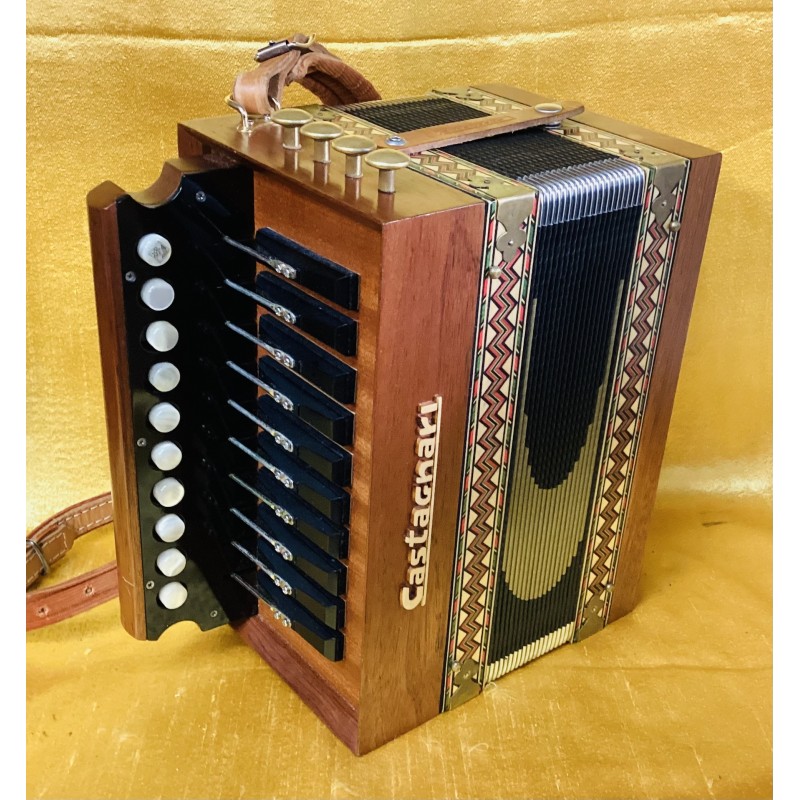 In Stock
 
Castagnari Max Key D Irish 4 Stop Melodeon Used
Tax included
Next working day dispatch
Castagnari Max Key D Irish 4 Stop Melodeon Used
** only 1 available with a saving of around £400 on a new one so get your order in first!!
In lovely condition with no unsightly scratches or dings.  Bellows, compression and tuning excellent.
Much sought after full professional standard single row 10 button 2 bass perfect for Irish traditional, Cajun, or even any folk music
This is beautifully crafted accordion made by top Italian manufacturer Castagnari.
It is a 4 voice Melodion tuned with LMMH reed configuration to offer a full range of tones. Good quality hand finished professional quality Italian reeds.  See photo for button layout.
Complete with 1 Padded shoulder strap and case.

Security policy (edit with Customer reassurance module)

Delivery policy (edit with Customer reassurance module)

Return policy (edit with Customer reassurance module)
Castagnari Max Key D Irish 4 Stop Melodeon Used
Treble  buttons: 10
Bass buttons: 2
Reed quality: Hand Finished
Treble Reeds: 4
Bass Reeds: 3
Treble Tuning: LMMH
colour: Paduk solid wood
Button finish: White pearloid
Couplers: 4 stops
Bass couplers: 0
Keyboard length (including cheeks): 25cm
Bellows width (front to back): 15 cm
Width (bass to treble total width): 
Weight: 2.3 kg