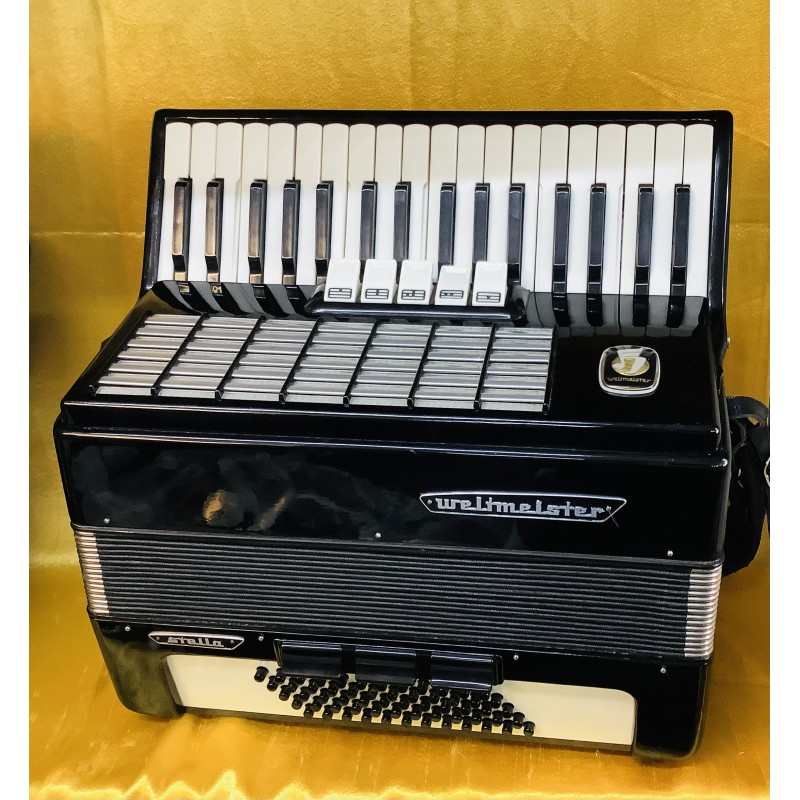 In Stock
 
Weltmeister Stella 3 Voice 34 Key 60 Bass Piano Accordion Used
Tax included
Next working day dispatch
Weltmeister Stella 3 Voice 34 Key 60 Bass Piano Accordion Used

This is a nice condition German made accordion in classic black with the usual minor signs of use but no unsightly dings or scratches.
It is a nicely tuned 3 voice tremolo accordion with 2 sets of tremolo reeds and a basson reed set.
Tuning has been checked and it has good bellows and excellent compression.
These are hard to find in this condition so grab it while you can.
Complete with straps and used case.

Security policy (edit with Customer reassurance module)

Delivery policy (edit with Customer reassurance module)

Return policy (edit with Customer reassurance module)
Weltmeister Stella 3 Voice 34 Key 60 Bass Piano Accordion Used 
Type: 
Piano
Treble Keys: 34
Bass Keys: 60
Reed quality: Standard German
Treble Reeds: 3
Bass Reeds: 5
Treble Tuning: LMM
Cassotto: No
Colour: Black
Key finish: White
Couplers: 5
Bass couplers: 3
Keyboard length (including cheeks): 
Bellows width (front to back): 
Width (bass to treble total width): 
Weight: 6.9 Kg
Welt-stella-34/60/3 blk-used