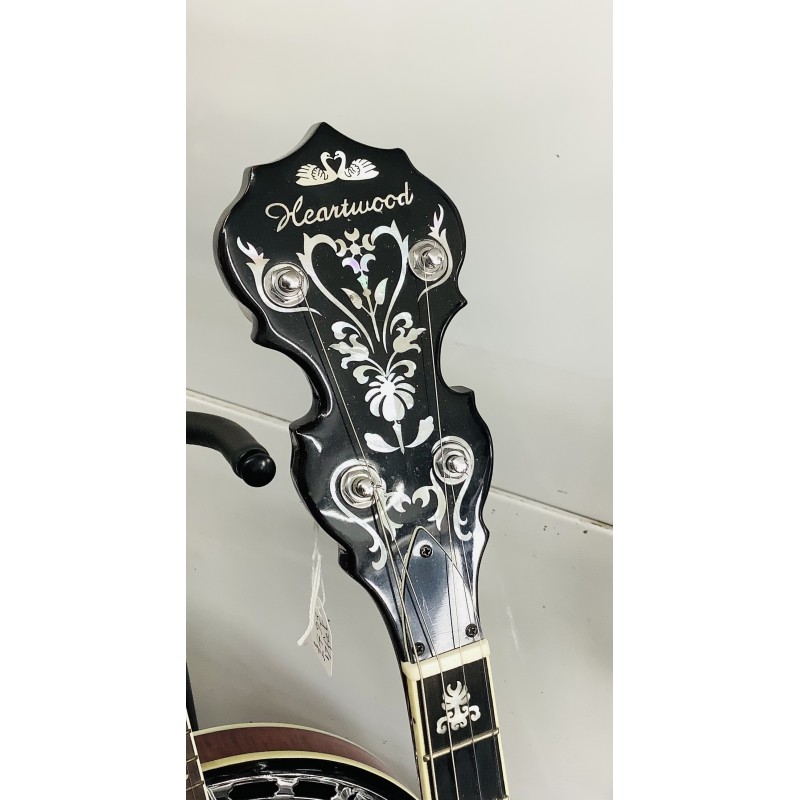 Out of Stock
 
Heartwood Emerald Irish 17 Fret Tenor Banjo with Brass Tone Ring Used
Used Heartwood 17 Fret Emerald Deluxe Irish Tenor Banjo with Brass Tone Ring Used
Excellent condition with no unsightly scratches or dings.  Set up with Irish tenor banjo tuning and heavy strings.  Looks and plays like new. Based on the design of the classic "Mastertone"* with a heavy cast bronze tone ring the "Emerald" has all the distinct tone that is popular with many professional tenor banjo players.
Flange is a chrome plated one piece cast zinc with "Key Slot" sound holes. The tone ring is cast bronze and chrome plated with 18 drilled holes as per original "Mastertone".
The heavy duty chrome plated notched stretcher band is fixed with 24 chromed round bracket and concealed hex nuts.
Banjo head is an 11" High crown frosted Remo Weather King.
Bridge is a minstrel style 3 footed Maple bridge with an Ebony cap.
The Neck is maple which is one of the brightest tones woods and often favoured in banjo construction when high end response is required.
A rosewood fret board is inlaid with pearloid composite and has full parchment coloured binding. This inlay design is echoed in the traditional "Fiddle Cut" headstock which has an an Ebony veneer.
A used case is included.

Security policy (edit with Customer reassurance module)

Delivery policy (edit with Customer reassurance module)

Return policy (edit with Customer reassurance module)