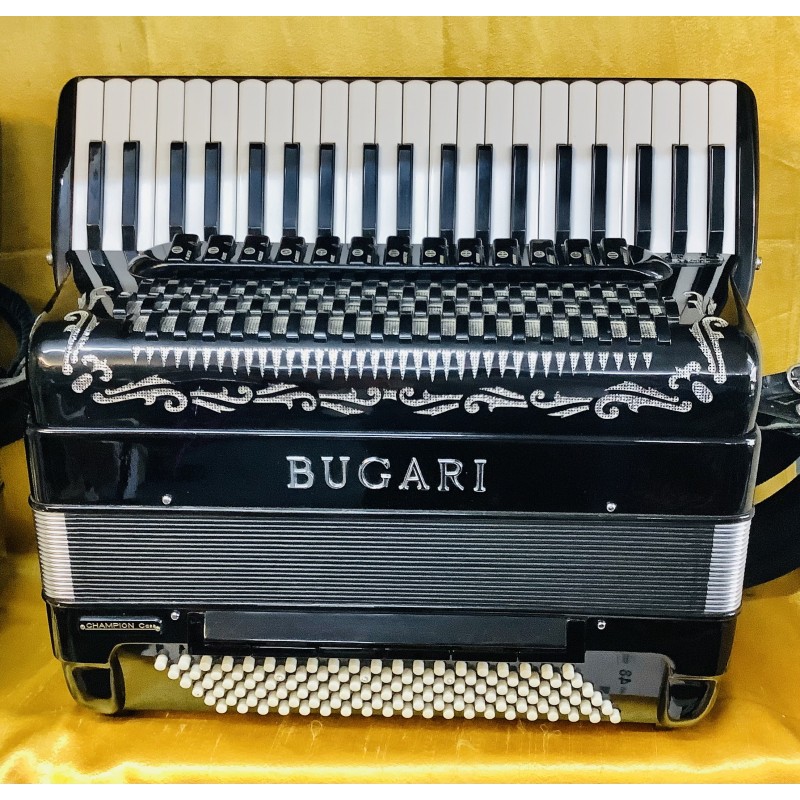 In Stock
 
Bugari Champion Cassotto 120 Bass 4 Voice Musette Piano Accordion Used
Tax included
Next working day dispatch
Bugari Champion Cassotto 120 Bass 4 Voice Musette Piano Accordion With Sodina Mute Used
Free delivery UK incl Highlands and Ireland.  (Other destinations please contact me for a shipping quote)
This is a beautifully cared 41 key 120 bass 4 voice double cassotto Scottish musette tuned with under grille sodina treble mute.
It is a used accordion with some signes of age and use but has no unsightly scrapes or dings.
This one has just been retuned to the highest standard by master tuner John Douglas Dunfries Scotland.
Three voices tuned in a tasteful Scottish musette plus basson reeds, double Cassotto chambers and trebel mute system.  It has it all so this is a very versatile instrument suitable for all styles of music.
Unfortunately the new model Champion Cassotto have been downgraded to TAM hand finished reeds as standard so these previous models fitted with hand made reeds are now in higher demand.   A good value truly professional top quality accordion from world respected Italian manufacturer Bugari.
Complete with padded straps and original used case.

Security policy (edit with Customer reassurance module)

Delivery policy (edit with Customer reassurance module)

Return policy (edit with Customer reassurance module)
Bugari Champion Cassotto 120 Bass 4 Voice Musette Piano Accordion Used
•  41 treble keys
•  120 bass
•  Treble mute system
•  Double cassotto (8'+16)
•  4 sets of treble reeds (8'+8'+8'+16')
•  5 sets of bass reeds
•  11 treble registers + palm master + mute open + mute closed
•  5 bass registers
•  Finest hand made (A Mano) reeds
•  Classic black finish with white keys/buttons and black bellows.
•  Keyboard length (incl cheeks):
•  Width keyboard edge to bass end (incl feet):
•  Depth 19cm
• Weight: 12 Kg
•  Complete with hard case and padded leather shoulder straps
Bugari-ChampCass-black-used