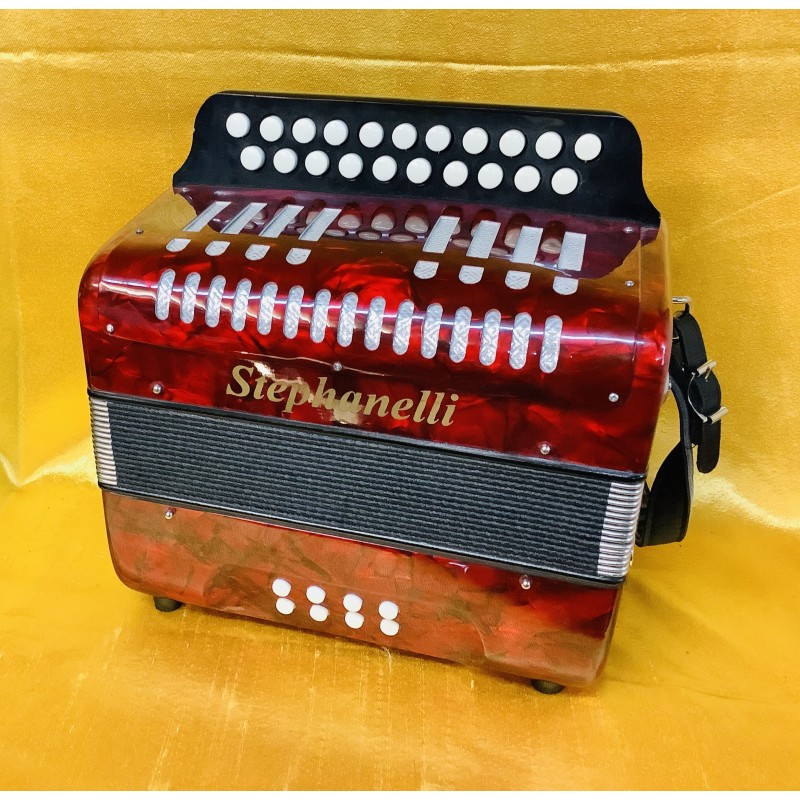 In Stock
 
Stephanelli B/C Button Accordion B/C 2 voice Irish Style
Tax included
Next working day dispatch
Stephanelli Button Accordion B/C 21 Buttons 2 voice Irish Style

Nice little used starter accordion with 21 treble buttons and 8 basses which is light weight and suitable for learner level.  In almost new condition with little signs of use.
In good tune, bellows and compression good.
It has 2 sets of reeds in tremolo tuning and is complete with used case and straps.

Security policy (edit with Customer reassurance module)

Delivery policy (edit with Customer reassurance module)

Return policy (edit with Customer reassurance module)
2 Row B/C Irish Style Button Accordion Used
Treble  buttons: 21
Bass buttons: 8
Reed quality: Standard
 reeds
Treble Reeds: 2
Bass Reeds: 3
Treble Tuning: MM
colour: Red
Button finish: White
Couplers: 0
Bass couplers: 0
Keyboard length (including cheeks): 
Bellows width (front to back): 
Width (bass to treble total width): 
Weight: 3.5 kg
Made in: China
Stephanelli-2108-Red-used