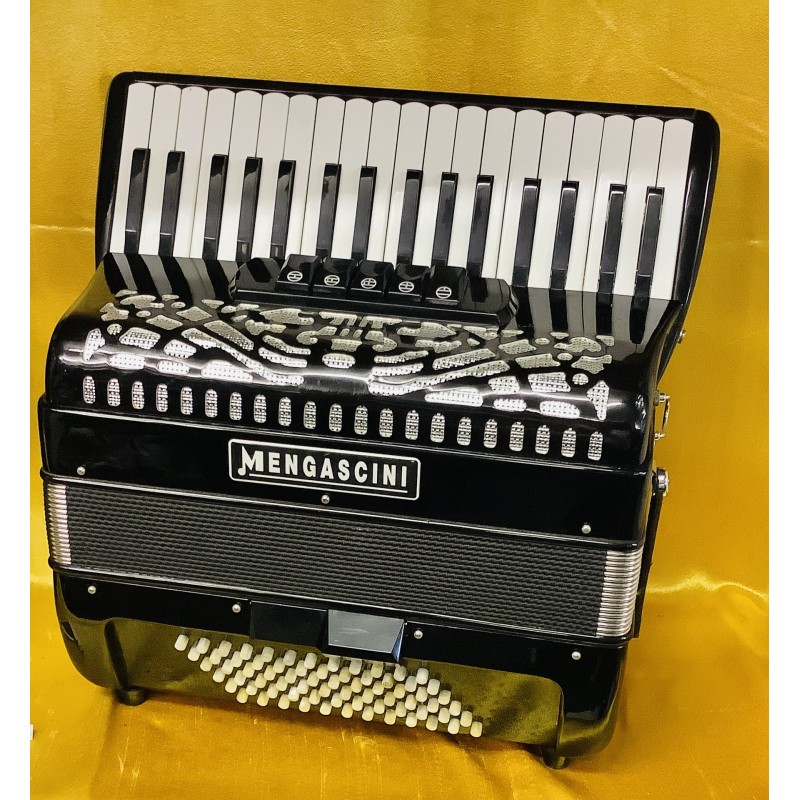 In Stock
 
Mengascini 72 bass 3 Voice Piano Accordion Used
Tax included
Next working day dispatch
Mengascini 72 bass 3 Voice Piano Accordion Used
Nice lightweight Italian hand made accordion in black gloss finish with a high build quality and nice sweet tremolo sound.  This model is a 34 key 72 bass with 3 sets of reeds and costs around £2695 new so this used one is excellent value for money.
It has of course some signs of use but nothing that will affect the playing if functioning of the instrument.
It is the 3 voice tremolo tuned model LMM reed configuration which is excellent for folk and traditional music.
Complete with padded straps and choice if gig bag or hard case.

Security policy (edit with Customer reassurance module)

Delivery policy (edit with Customer reassurance module)

Return policy (edit with Customer reassurance module)
Mengascini 72 bass 3 Voice Piano Accordion Used
Treble Keys: 34
Bass Keys: 72
Reed quality: Dural
Treble Reeds: 3
Bass Reeds: 4
Treble Tuning: LMM tremolo tuned
Cassotto: No
Colour: Black
Key finish: White
Couplers: 5
Bass couplers: 2
Keyboard length (including cheeks): 36.5
Bellows width (front to back): 18
Width (bass to treble total width): 40
Weight: 8.6kg