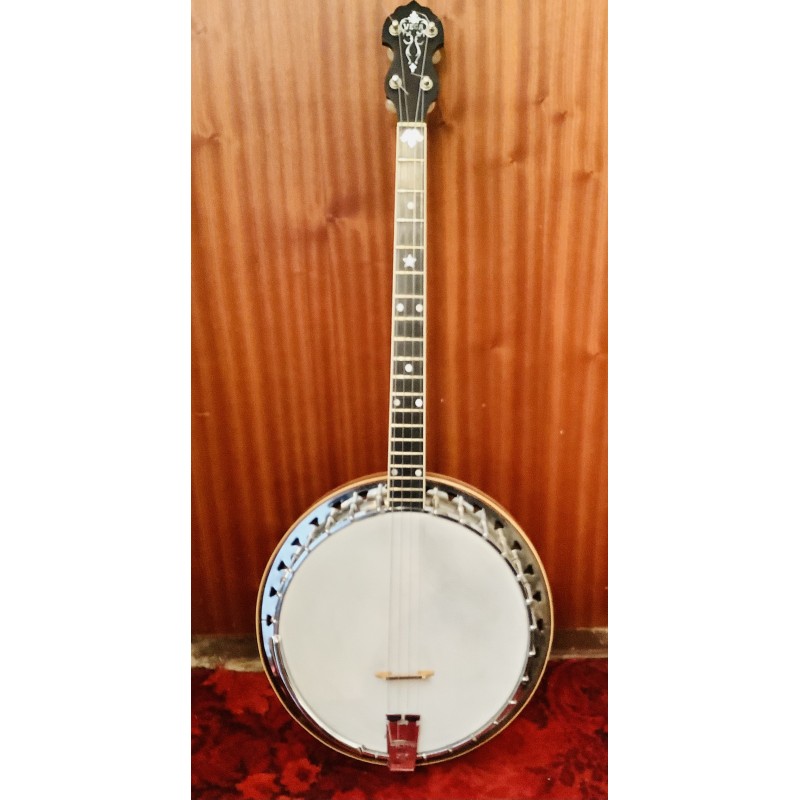 In Stock
 
Vega vintage 1929 American 19 Fret Irish Tuned Tenor Banjo Used
Tax included
Next working day dispatch
High Quality 1929 USA Vega Vegaphone Professional Tenor Banjo Used.

A rare opportunity to buy a top level vintage American banjo set up, tuned and ready to play for a fraction of the usual prices charged for fully restored versions of these much sought after banjos.
This one is well played so it is priced accordingly.  So if you don't mind the looks then you will not be disappointed either by the powerful sound and ease of playing.
It has the excellent sounding Tubaphone tone ring and nicely decorated fingerboard. The resonator is not the original and was hand made specially by a Luthier in 1970's.  There is the usual playing wear to the arm rest and has some replaced hooks.
The arm rest and woodwork are in original condition, the flange and drumhead ring are original but have been restored.
A well used hard case (not the original) is included.
Perfect session banjo for Irish traditional music.

Security policy (edit with Customer reassurance module)

Delivery policy (edit with Customer reassurance module)

Return policy (edit with Customer reassurance module)