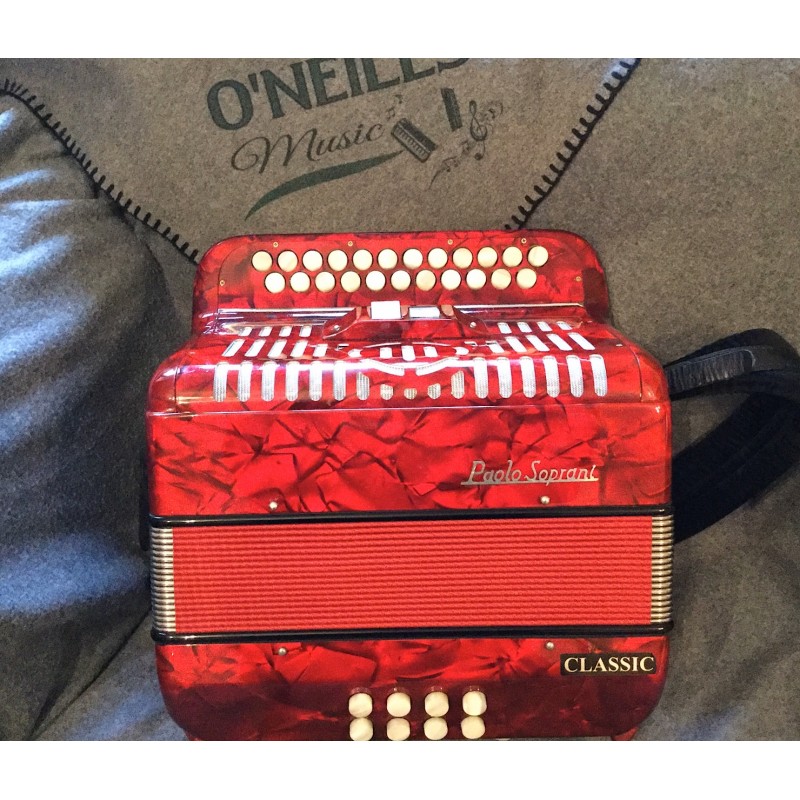 In Stock
 
Paolo Soprani B/C Classic Jubilee IV 4 voice Used
Paolo Soprani Classic Jubilee IV 2 Row B/C button key accordion 23 buttons 8 bass Used
Almost like new Paolo Soprani Classic Jubilee IV 4 voice 2 Row button key accordion. Irish style B/C tuning.  23 button key accordion with 4 sets of quality Italian reeds. It has the high build quality expected from Paolo Soprani and has a superb original Paolo Soprani traditional sound.  This model is a professional standard accordion with volume and tone.
Looking and sounding like the old style Paolo Soprani, with well vented grille, this traditional Irish music style accordion is excellent value for money
This is 4 voice Irish traditional tuned model LMMM reed configuration.
Complete with pair of straps and Italian leather case.
Security policy (edit with Customer reassurance module)

Delivery policy (edit with Customer reassurance module)

Return policy (edit with Customer reassurance module)
New Paolo Soprani Classic Jubilee IV 4 voice 2 Row B/C Irish traditional accordion
Treble  buttons: 23
Bass buttons: 8
Reed quality: Hand finished 
Treble Reeds: 4
Bass Reeds: 5
Treble Tuning: LMMM
colour: Red
Button finish: White pearloid
Couplers: 2
Bass couplers: 0
Keyboard length (including cheeks): 
Bellows width (front to back): 
Width (bass to treble total width): 
Weight: kg