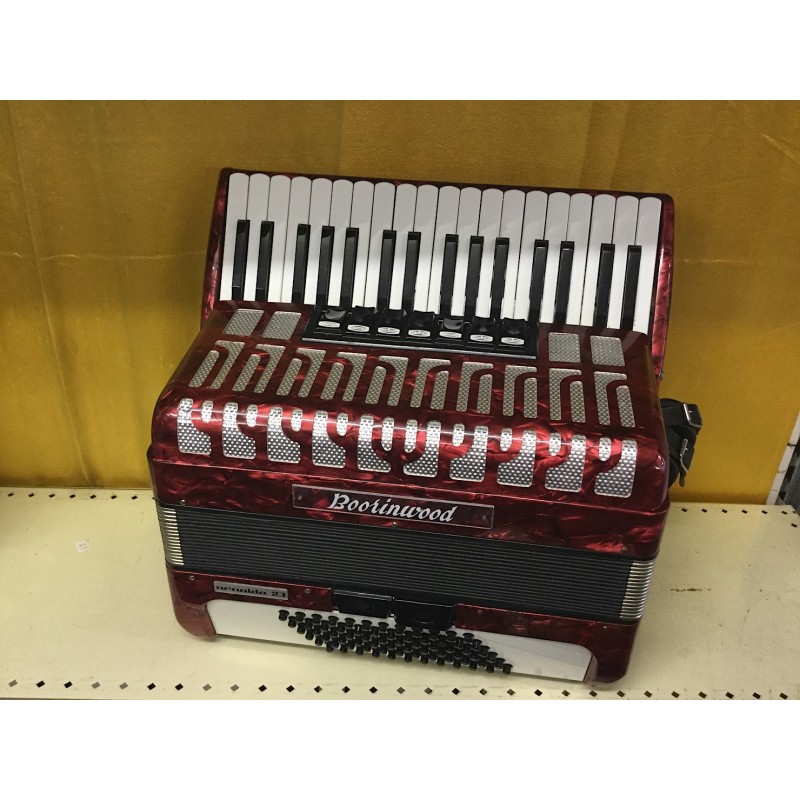 In Stock
 
Boorinwood Arnoldo Mid Range 34/72 3 voice Red Used
Boorinwood Mid Range 34/72 3 voice Red Used

Boorinwood Mid Range 3 voice 72 bass is in the middle of the Boorinwood range of medium size accordions. Made in Europe by Delecia, this is a light compact traditional style model in a beautiful sweet tremolo tone that is ideal for a wide range of music styles. These accordions have a really solid reputation worldwide and have a nice action 34 reduced size keys, 72 bass and 3 sets of quality Czech reeds. Perfect if you need an instrument that is reliable and affordable.
At £1150 new this is a bargain price
Complete with hard case and padded straps.
Security policy (edit with Customer reassurance module)

Delivery policy (edit with Customer reassurance module)

Return policy (edit with Customer reassurance module)
Boorinwood Mid Range 34/72 3 voice Red
Type: Piano
Treble Keys: 34
Bass Keys: 72
Reed quality: Super Dural
Treble Reeds: 3
Bass Reeds: 4
Treble Tuning: LMM
Cassotto: No
Colour: Ruby red
Key finish: White
Couplers: 7
Bass couplers: 2
Keyboard length (including cheeks): 44.5
Bellows width (front to back): 19
Width (bass to treble total width): 41