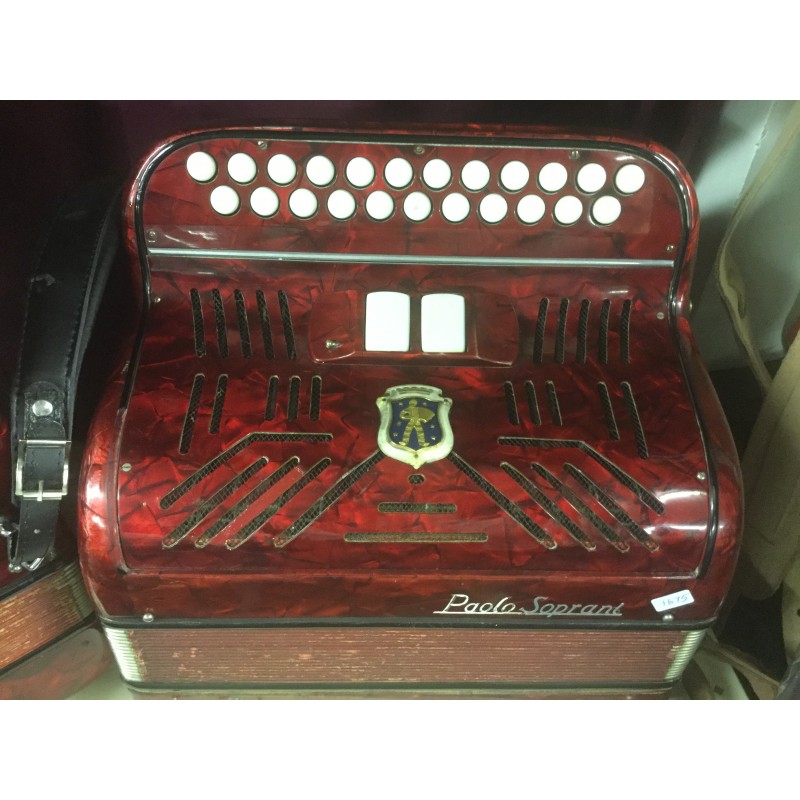 Out of Stock
 
Soprani late 1940s early 4 voice blue badge 2 row acordion B/C 23/8 Used
Superb Paolo Soprani early 1950s 4 voice blue badge 2 Row acordion B/C Used
In good overall condition with fading on the bellow tape, it has the usual high build quality expected from the much sought after late 1940s blue badge Paolo Soprani. It has the superb original Paolo Soprani traditional Scottish/Irish sound.  Well tuned and good compression, this model is a professional standard accordion with excellent volume and tone.
This is 4 voice Irish traditional tuned model LMMM reed configuration.
Complete with single strap and used case or gig bag.
Security policy (edit with Customer reassurance module)

Delivery policy (edit with Customer reassurance module)

Return policy (edit with Customer reassurance module)
Paolo Soprani Blue Badge 4 voice 2 Row acordion B/C 23/8 Used
Treble  buttons: 23
Bass buttons: 8
Reed quality: Hand made
Treble Reeds: 4
Bass Reeds: 4
Treble Tuning: LMMM
colour: Red
Button finish: White
Couplers: 2
Bass couplers: 0
Keyboard length (including cheeks): 
Bellows width (front to back): 
Width (bass to treble total width): 
Weight: kg