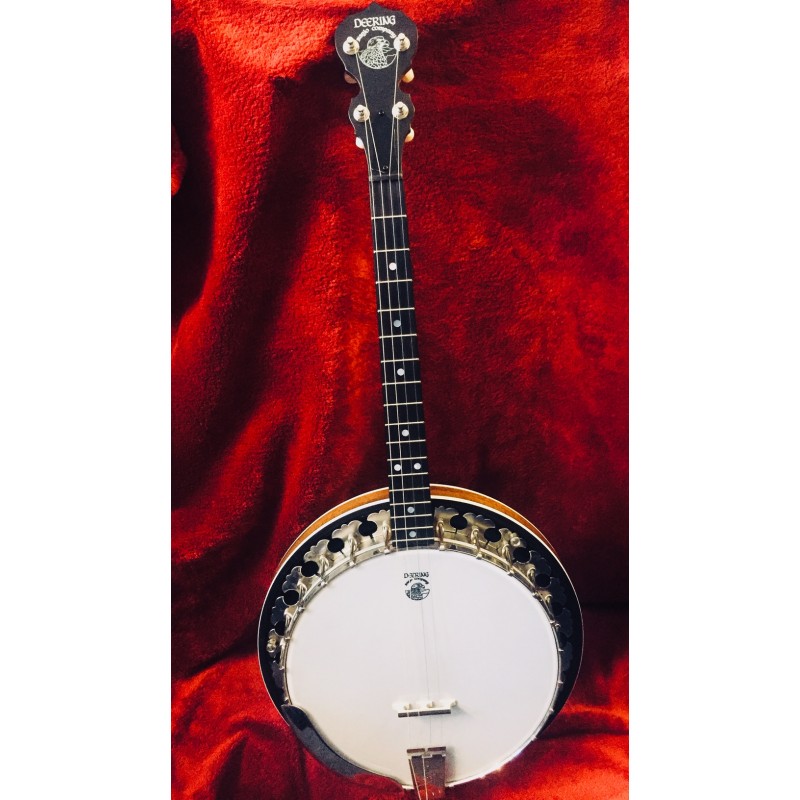 Out of Stock
 
Used Deering Boston Short Scale 17 Fret Irish Tenor Banjo with Brass Tone Ring
Used Deering Boston  Short Scale 17 Fret Irish Tenor Banjo in Deering banjo case
In as new condition. Rarely played with Deering hard case.
A great recording tenor banjo with resonator for sound projection, the Boston 17 fret tenor tuned in fifths, GDAE iis easily fingered by mandolin or violin players because the chord fingering is the same. This lighter weight banjo is easy to play and incredibly durable for years of enjoyment! The innovative steel rim construction of the drum provides a clear, crisp banjo tone that rings like a bell, records well and plays easily.
Top of the range banjo rrp when new is Circa. £1650 So grab a bargain.
Mahogany Resonator
Mahogany Neck
Satin Finish
Includes Hard Case
Lifetime Warranty: 
The trust and pride we share in our product gives us the confidence to grant every owner of a Deering banjo a Lifetime Warranty ensuring the quality of our materials and workmanship. Irish traditional music
Walnut neck & rim
Whyte laydie tone ring 
Ovangkol fingerboard

One piece nickel flange.

Planetary banjo machine head

Maple bridge with ebony top

Maple binding

Gloss finish

Ashbury

Fitted with heavy gauge strings for Irish GDAE tuning
Case Included
Security policy (edit with Customer reassurance module)

Delivery policy (edit with Customer reassurance module)

Return policy (edit with Customer reassurance module)
American Deering Boston 17 Fret Tenor Banjo With Hard Case
Neck:
Mahogany with 17 Nickel-Silver Pressed In Frets
Slender, Fast and Comfortable Deering Neck Shape With Pearl Dot & Leaf Inlays
Planetary Tuners already fitted as optional extra.

Pot: 
Nickel Plated and Durable 3/16" Steel Rim That Rings Like a Tone Ring
Frosted Bottom 11" Medium Crown Head
Beveled Tension Hoop & Butterfly 24-Piece Flange
24 flat hooks with 9/32" Hex Nuts
Nickel Plated Hardware

Resonator:
Mahogany With White Binding & Durable Satin Finish
Dimensions: 
Neck Width at the Nut: 1 3/16″
Scale Length: Nut to Bridge 22″
Resonator diameter: 13 7/8″
Overall Instrument Length: 34″